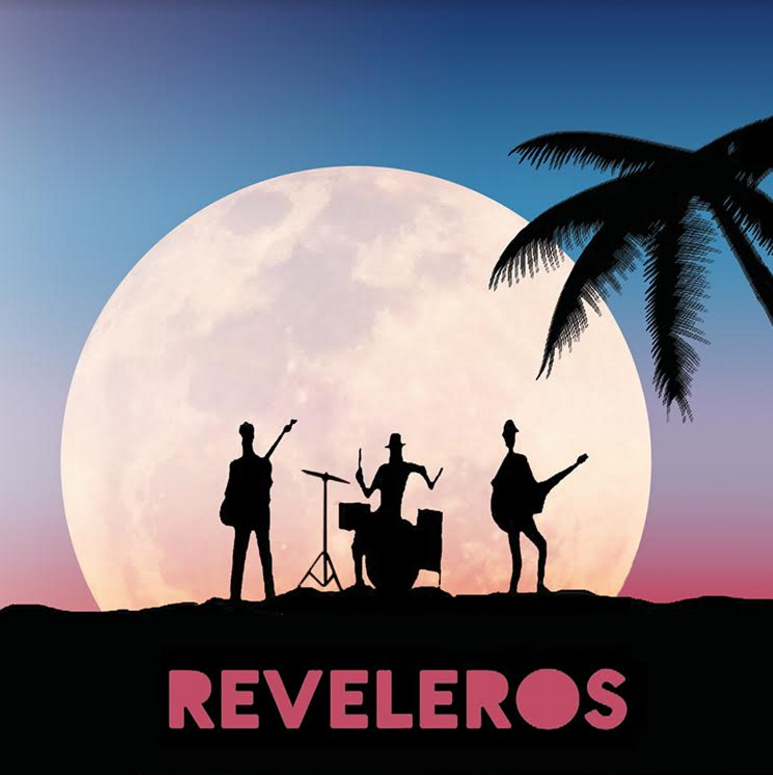 Reveleros

1. Opa Nina Nai (Greek) (2:53)
(Trad.-Stelios Kazantzidis)
2. Cha Cha Pusti Me (Croatian) (3:23)
(Neno Belan - Jaksa Matosic)
3. Oh Zelie (Frenglish) (3:00)
(Kim Simpson)
4. What a Mellow Man (Instrumental) (2:39)
(Herbie Hancock)
5. Maria Isabel (Spanish) (3:12)
(Traditional)
6. O Koutalianos (Greek) (3:20)
(L. Popodopoulos - M. Loizos)
7. Regeneration (Instrumental) (3:58)
(Kim Simpson)
8. 'Tit Galop Pour Mamou (Cajun French) (3:03)
(Dewey Balfa)
9. La Playa (Instrumental) (2:38)
(Jo Van Wetter)
10. La Mucura (Spanish) (3:09)
(Antonio Fuentes)

Produced by Chris Dirkx
Mixed and engineered by John Bush at Cicada Moon Studios
Mastered by Jerry Tubb at Terra Nova Mastering

Chris Dirkx: Drums/Percussion, backup vocals
Kim Simpson: Lead vocals, guitar, mandolin
Kevin Taylor: Bass, marimba

with:
David Perales: Violin, backing vocals
Brad Houser: Bari sax, backing vocals

Made in Texas!



Austin's Reveleros rev up crowds with exotic rhythms, multilingual vocals, sharp instrumental chops and a globetrotting repertoire. Core members Chris Dirkx (percussion), Kim Simpson (guitar and vocals), and David Perales regularly feature some of the area's finest musicians.

Their new debut album is a spicy mix of original tracks with versions of songs from the shores of Greece, Croatia, Mexico and more. Musical collaborators and soloists on the CD include Austin-based composer Kevin Taylor (bass and marimba), David Perales (violin), along with New Bohemians John Bush (engineer) and Brad Houser (sax).

"Refreshing" —Austin American-Statesman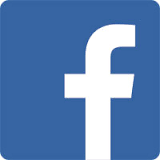 Contact:
Chris Dirkx at cadirkx @ gmail.com
1-512-751-9915 or

Kim Simpson at ksimpson3 @ gmail.com


Upcoming Shows: TBA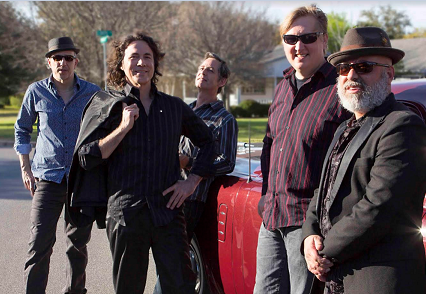 (l-r): Chris Dirkx, Chris Alcaraz, Paul Klemperer, Kim Simpson, David Perales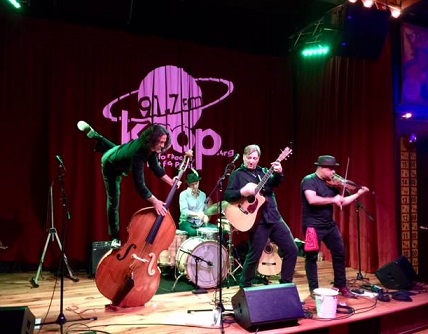 At the Barrel O' Fun: November 18, 2017