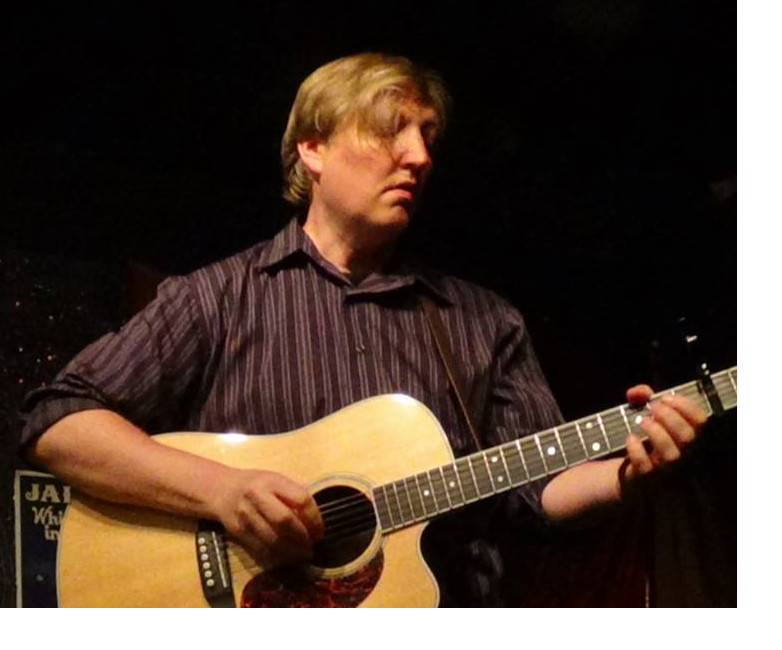 A musical adventurer, Kim Simpson specializes in the simple combination of acoustic guitar and voice to explore the world around him. He has released several collections of original songs acclaimed for what
Dirty Linen
once referred to as "poetry and power." He draws from an enormous multilingual repertoire and turns heads with his skills as a solo instrumentalist (his latest release is an EP called
Tex Mex Guitar
, which features fingerstyle guitar interpretations of conjunto accordion songs). Bursting with project ideas, Kim maintains a steady recording habit while performing regularly in the vivacious music scene of Austin, Texas, where he has also kept busy as a radio host on KUTX and KOOP.

Kim grew up in Salt Lake City, Utah, with a dad who ran a local recording studio and a Finnish mom who was a classically-trained pianist. (His first name is short for "Kimmo," a Finnish name, and he is also a dual Finnish-American citizen). At an early age, Kim found he couldn't keep his hands off of a "painfully high strung" steel string guitar he discovered in the basement around the same time he grew fascinated with his parents' record collection, which included classic jazz 78s, rock staples, and traditional Scandinavian music. "Those early discoveries of records and guitar have probably influenced every decision I've made since then," says Kim.


Kim spent his teenage years practicing guitar, playing in bands, and haunting used record stores. Enamored with British folk from the late sixties and early seventies, Kim fixated especially on acoustic guitarist Davey Graham. "He had a global perspective and no restrictive sense of genre-orthodoxy," says Kim. "But he could still be called a 'folk musician.'" By his late teens, Kim was gigging as a folk, classical, and jazz guitarist in solo and group settings, while travels in Eastern Europe and North Africa expanded his musical palette.

In 1992, Kim released a cassette of original songs called

Destination

and developed a reputation as a dynamic solo performer, interlacing narrative songs with exotic covers and virtuoso instrumentals. "I love the acoustic guitar for its versatility," says Kim. "It encourages honesty but also challenges solo performers to make it sound interesting, which is a challenge I revel in." Such revelry continued in Austin, where Kim relocated in 1993 after marrying a Texas girl. In '94 he released an expanded version of

Destination

, which, along with his 1996

Midnight Apparitions

CD, drew praise from publications like

Folk Roots

,

Dirty Linen

, and

Music City Texas

, who called Kim "one of the very best of the younger generation of singer songwriters."

In the late '90s and early '00s, Kim's interest in popular music history led him toward a PhD in American Studies at the University of Texas. These years bore fruit with the 2011 publication of his

Early 70s Radio: The American Format Revolution

(Continuum), which chronicled commercial radio in the era he was born into. The book benefited from Kim's wide-ranging knowledge, which also got him work as a consultant for a 2007 Peabody Award-winning PRI radio documentary on rockabilly music called

Whole Lotta Shakin'

.

During his academic years, Kim kept making demos, and when some old friends with a new label approached him about recording for them, he delivered a one-man-band album called

The Mad Dukes Sing and Play for You

(2006). The album's leadoff single, "Looking for That Girl," got picked as NPR's song of the day and reached no. 1 on the AC singles chart for LA-based independent trade paper

New Music Weekly

, while the

Austin Chronicle

listed it as one of the year's best local releases.
After the Mad Dukes experiment, Kim settled back into making solo acoustic music. In 2009, he recorded an instrumental guitar CD called
Mystery Lights
, which was licensed for various TV soundtracks and commercials, and the same year the U.S. Embassy in Beijing sent him on a tour of China as a performing lecturer in American folk music. He also expanded his activities as a folk radio DJ at KOOP (
The International Folk Bazaar
) and KUTX (
Folkways
), enabling him to pursue his curiosities in global roots music and to give airtime to like-minded musicians.
At the heart of Kim's swirl of activity, though, is a basic passion for making music. "I'm always working on a song or figuring out how to adapt one someone else has written," he says. "Always." His most recent projects include the aforementioned

Tex Mex Guitar

EP and the 2013 song cycle

Yours All the Way

. A compilation called

Songs and Sightings

, which gathers up recordings from the past two decades, is slated for release in 2015, as is an album of brand new songs. His YouTube channel features home recordings of covers, originals, and collaborations (his recent version of the Bosnian "Zenica Blues" went viral in the Balkans, attracting 50,000 views in a few weeks), and he gigs steadily in Austin as a solo performer and, most recently, with Manuel "Cowboy" Donley, Jesse Sublett, and a new world/ eclectic combo called the Reveleros.
If it sounds like Kim has a tendency for unpredictability, how would he characterize himself? "Predictable - as long as I'm able, I'll be expressing myself with my guitar and voice," he says. "The places this habit takes me, though, can definitely be surprising." By all means, this circles back to a key factor in the appeal Kim Simpson's music has on those who discover it: a reliable and ongoing sense of adventure.



"Impeccable"
-
Austin Chronicle
"Infectiously melodic" -NPR
"Poetry and power" -

Dirty Linen
"Tasteful and lively" -

Minor 7th
"One of the very best of the younger generation of singer-songwriters" -Music City Texas